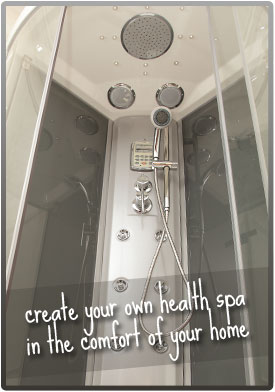 Top Steam Room Benefits
In a steam room, wet heat opens the pores of your skin to aid body detoxification. A steam generator is used to create water vapour at high levels of humidity. The heat and humidity may bring health benefits ranging from aiding stress relief, to body cleansing, to soothing aching muscles or arthritis. This article will highlight the main benefits and the importance of using a steam room:


1st Steam Room Benefit: Eliminate toxins
The average body has approximately 2.6 million sweat glands. The body only has four ways to excrete toxins; urine, feces, respiration and perspiration. During a steam room session the body can sweat out up to 30% of its toxins that have built up. Studies have shown that environmental chemicals and poor diet cause 95% of cancers, which in today's society makes a steam room a very healthy and practical addition to the home.
2nd Steam Room Benefit: Rejuvenate and Hydrate the Skin
Heat from the steam causes the heart to beat faster and harder in an attempt to cool the body, causing blood to flood even the smallest capillaries. Increased blood flow to these tiny capillaries (just under the skins surface) causes the skin to glow and look healthy because the blood cells carry minerals, vitamins and oxygen: vital for a healthy body. In addition, this increases the rate of body metabolism.