Di Vapor continually strives to provide luxury bathroom products combined with a high level of customer service, designed to transform the way you live your lives for the better. Each and every product is sold with this concept in mind, which is why we love to see a satisfied customer realising their dream bathroom and this wasn't as difficult to achieve as they'd initially thought. There's nothing more satisfying than seeing before and after photographs – You often ask yourself why you didn't make the transformation sooner.

Below you'll find some examples of dream bathrooms becoming a reality, with feedback and photographs direct from our customers. If you'd like to feature your bathroom as a case study and share your Di Vapor experience with others, simply send us your details and a member of our team will be in touch: Contact Us

Please scroll down to see a selection of our customer submitted case studies.
CASE STUDY 1 |

Ferndown, Dorset
Coastal Homes is a building contracting company in Bournemouth and as such we are very much used to making the most out of the products we buy. We chose the Cosmo whirlpool TV bath from Di Vapor to replace the existing bath and due to our industry expertise knew that we could adapt the glass finish to match the bathrooms tile colouring.
The front glass panel on the Cosmo was removed and sent to one of our glass works where at first they thought they might be able to remove the backing and re-spray. Unfortunately, this was not possible so we used the old glass as a template and cut a new 6mm glass panel identical with radius and holes drilled. The new glass panel was then sent to be toughened and afterwards we had the panel sent to be sprayed.
The T.V. on the bath was connected to the booster system within property and then fitted with a magic eye which can be seen in bottom right hand corner of the T.V. This gives us full sky menu with remote control.
The finished bathroom design combines cutting edge bathroom products, skilled workmanship and a creative licence to transform an old unassuming bathroom into a desirable escape from which you will not want to leave. Very satisfied indeed!
CASE STUDY 2 |

West Byfleet, Kent
Limited by my bathroom size, I was looking for a small yet well-equipped 1 person cabin approximately 900 square. I hope these pictures will be of some use to you - They show the rerouted pipework and waste point. Thanks to your pre-install guide downloaded from your website, I was able to properly prepare the area before the unit arrived. We made good the sub floor, using 20mm ply, SG500 feather edge latex finished with an Amtico tiled floor, which was all done in day one.
On day two we assembled and installed the shower, an easy task for one with basic DIY skills and tools found in most people's toolkit. Prep as always is the secret to any easy job! I made use of a leading quality sealant (CT1) during the assembly and all went well. Of course helped by a really good product to work with in the first place, installation was finished by early PM, giving me a chance to try out the new shower.
I spent a couple of hours on day three (optional) to put nice trims to finish the edges around the shower and adjacent pipes. Thanks to Dan firstly for his professional help and secondly to all the guys for supplying such a good product
CASE STUDY 3 |

Forest Hill, London
We found divapor after searching (for what seemed like an eternity) for a steam enclosure that filled the available footprint size that we had available in the bathroom. The Victoria had a very unique door setup but we decided to make it work as we loved the wooden shelving feature.
We had work being done in other parts of the house, so installation was done by professionals who were experienced. Added two robe hangers onto the back wall of the shelving, a worthy addition! Issues with delivery were sorted out without hassle - Thanks to Di Vapor for all their help and quick service.
CASE STUDY 4 |

Llangollen, Denbighshire
Everything has turned out just beautiful! From start to finish we were looking for a wow factor that would continue in the bathroom as the entire house was being renovated to a high standard.
The Trevi was combined with the Cosmo in the same bathroom for the ultimate home spa – It's just a shame I don't have the space in our en-suite to recreate the entire setup just for myself. I'd like to thank everybody for their helpful assistance throughout.
CASE STUDY 5 |

South London
Very helpful from start to finish. Thanks to the guys for being so quick at getting back to me on various installation questions. I managed to install the entire cabin by myself, flat pack fitted in the bathroom within a day complete with all water & drain checks. Unit has been in now for 6 weeks and we are both very happy with it. Use the steam every weekend and it's brill. Thank you Di vapor!
CASE STUDY 6 |

South London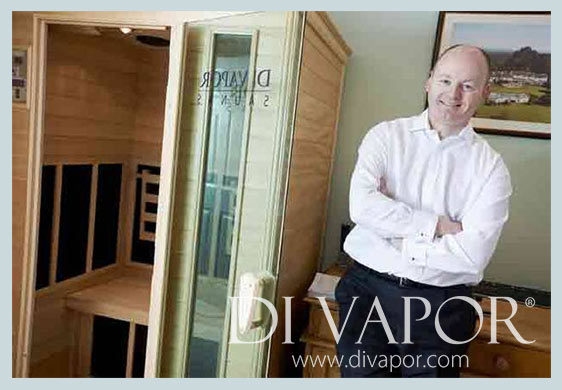 I've got a fairly stressful job – I'm director of a company that owns 18 spas so I'm familiar with saunas and the benefits that they bring. But I'd never thought about having one at home, but then a colleague told me about the recent advances in technology, which sparked me to think about a sauna as a domestic product. And after a bit of Googling, I found Divapor.com.
My 11-year-old son and I assembled it in less than an hour, and then you just plug it in and you're away. As for the family, I don't let them use it. They know it's my little sanctuary, where I go two or three times a week to sit with a book or to listen to music - it's got a CD player. I read the papers every Sunday morning in there. It's just a great way to chill out. And during the winter months, they're obviously very warming and great for lifting the mood and spirit.
You'd think it would be quite power-hungry but it's not, it's made virtually no impact on my electricity bill. I'd like to thank Di Vapor for all their help from start to finish – Highly recommended
CASE STUDY 7 |

Howwood, Scotland
We were looking to replace our standard corner bath for something a bit special, as we had seen whirlpool Jacuzzi baths were the "in thing" at the Grand Designs exhibition in London.
The Windermere from divapor suited our budget whilst having all the features we wanted. Had some issues with using the unit at first, which we thought was a problem with the bath. Turned out we just weren't pressing the right buttons! Thanks again for all your help.