WEIGHT LOSS

- Burn up to 600 calories!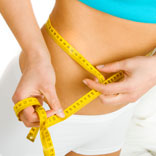 Can you lose up to 600 calories in a Di Vapor Solare sauna in 30 minutes?

A common misconception is that weight loss in a sauna is solely due to water loss through sweating. While it is true that weight reduction due to water loss will be regained when you are rehydrated, it is also true that the body expends energy and consumes calories in the sweating process.

A letter by Major Ward Dean, MC, to the Journal of the American Medical Association (1981;246(6):623), detailed that the use of an infrared sauna can burn between 200 to 600 calories in a 30 minute session. When heated by the sauna, the body's cardiac output, heart rate and metabolic rate increases.

Water does not simply "leak" from the body in an infrared sauna. It is this cardiac output that burns calories, aiding in weight loss. JAMA states that the process consumes 0.586 kcal per gram of water lost.

A different clinical study by M. Imamura looked at the potentially positive effects that using an infrared sauna can have on the lining of blood vessels in the heart. It was discovered, however, that after 15 minutes of infrared sauna use every day for 2 weeks, participants had significantly lost body weight [1]. As monitoring body weight was not their primary concern it demonstrates that the effect must have been significant to warrant its inclusion.



[1] Repeated Thermal Therapy Improves Impaired Vascular Endothelial Function in Patients with Coronary Risk Factors. M. Imamura et al.
View our Solare Saunas
Helping control your weight