LOWER BLOOD PRESSURE AND HEART CONDITIONS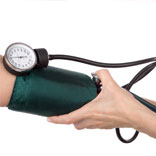 Blood Pressure


Research into far infrared saunas has shown that patients who used the infrared sauna lowered their blood pressure, using the sauna three times a week at 30 minutes per session.

Department of Cardiology, Respiratory and Metabolic Medicine in Kagoshima University took a group of 28 patients who had at least one coronary risk factor and split them into two groups. Fourteen were put into one group to be treated with a far infrared sauna and the other fourteen were put into the non sauna group. The patients in the sauna group used the infrared sauna once a day for 15 minutes, at 60 °C, followed by 30 minutes bed rest with a blanket, for two weeks. Systolic blood pressure levels in the sauna group were significantly lower than those in the non-sauna group at two weeks after admission (110 +/- 15 mmHg versus 122 +/- 13 mmHg). These results suggest that repeated sauna therapy may protect against oxidative stress, which leads to the prevention of atherosclerosis.



Chronic Heart Failure


It has been shown that Di Vapor's Solare saunas are beneficial in treating chronic heart failure. A study of 129 patients was carried out by Kagoshima University in Japan to determine the effects of heat on the body with the use of an infrared sauna. Half the patients were tested in a traditional sauna and the other half were treated in an infrared sauna. It was shown that the death rate 60 months after treatment of the infrared sauna group was significantly lower as a result of the treatment. The conclusion of the study was that heat therapy using an infrared sauna reduced cardiac events in patients with CHF and that therapy using an infrared sauna is a 'promising non-pharmacological treatment for CHF.'



Improves Pulmonary Hypertension


The use of a Di Vapor Solare sauna can help improve the vascular endothelial and the cardiac function in patients with chronic heart failure. A study of 13 patients with chronic obstruction pulmonary disease participated to test the effects of heat, using an infrared sauna for pulmonary hypertention. The patients , who met the Global Initiative for Chronic Obstructive Lung disease criteria were breathless despite receiving conventional treatments. The patients underwent a 4 week test, using the sauna for 15 minutes per day, followed by 30 minutes of warm blankets. Cardiac function, exercise tolerance and St.Georges respirator Questionnaire (SGRQ) were assessed before and 4 weeks after the therapy. The results were very positive, showing improvements in the right ventricular, prolonging mean exercise time and showing improvements in the SGRQ.



Cardiovascular Problems


Research by W. Crinnion states: "Saunas can be used very effectively for certain cardiovascular problems and as a means to enhance the mobilization of fat-soluble xenobiotics."[1] A xenobiotic is a chemical which is found in an organism but which is not normally produced or expected to be present in it. "When saunas are used to reduce blood pressure and enhance blood flow and cardiac functioning, only short sauna sessions (15 minutes) are necessary. When one wants to enhance the mobilization of heavy metals and chemical xenobiotics, longer sessions are needed and those should be medically monitored. But, for either use, saunas are safe and effective and should be used more frequently to benefit the health of our patients and ourselves."[1]

---
[1] Components of practical clinical detox programs-sauna as a therapeutic tool. Altern Ther Health Med. 2007 Mar-Apr;13(2):S154-6. Author: W Crinnion.
View our Solare Saunas
Help reduce blood pressure