PAIN RELIEF

- Heat therapy benefits using an infrared sauna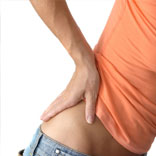 Many clinical studies have demonstrated that heat therapy using an infrared sauna can reduce numerous pains including rheumatoid arthritis, fibromyalgia and ankylosing spondylitis [1,2,3].

A recent study has been carried out by the Saxion University of Applied Sciences [4], Enschede in The Netherlands, into whether infrared saunas have an effect on Rheumatoid Arthritis (RA) and Ankylosing Spondylitis (AS) sufferers.

The clinical study was conducted over a 4 week period on 17 RA patients and 17 AS patients. The results showed that pain, stiffness and fatigue decreased clinically and the improvements were 'statistically significant'. The tested RA and AS patients showed no adverse side effects to the treatment and tolerated the treatment very well.

The conclusion of the clinical study was that "infrared treatment has statistically significant short-term beneficial effects and clinically relevant period effects during treatment in RA and AS patients without enhancing disease activity."

A study by M. Hannuksela et al. states that "Sauna bathing may also alleviate pain and improve joint mobility in patients with rheumatic disease"[1]. Regarding Chronic pain, findings by Akinori Masuda et al. demonstrate through their results that "a combination of multidisciplinary treatment and repeated thermal therapy may be a promising method for treatment of chronic pain"[2].

---
[1] Benefits and risks of sauna bathing, The American Journal of Medicine (110:2:118-126). M.Hannuksela.
[2] The Effects of Repeated Thermal Therapy for Patients with Chronic Pain. Akinori Masuda, et al.
[3] Efficacy of Waon Therapy for Fibromyalgia. Internal Medicine (47:16:1473-1476) Kakushi Matsushita1, et al.
[4] Infrared sauna in patients with rheumatoid arthritis and ankylosing spondylitis. Clinical Rheumatology, Oosterveld et al.
View our Solare Saunas
Help alleviate joint pains