IMPROVE BLOOD CIRCULATION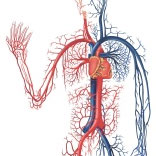 The heat inside a Solare infrared sauna has a similar heating effect on muscles as a moderate or vigorous walk[2]. During a sauna session, blood rushes to the surface of the skin, capillaries dilate, increasing the volume of blood within the arteries and capillaries. Circulation at the skin greatly increases to minimise body heating.

Research in Japan found that for patients suffering from Cerebral Palsy (CP) "numbness and chronic myalgia of the extremities decreased". Furthermore, "low temperature sauna bathing improves the peripheral circulation in CP patients".[1]

---
[1] Effects of single low-temperature sauna bathing in patients with severe motor and intellectual disabilities. Int J Biometeorol. 2008 Jul;52(6):431-7. Iiyama J et al.
[2] Sauna bather's circulation. Ann Clin Res. 1988;20(4):249-56. Vuori I.
View our Solare Saunas
Improve your circulation