SKIN CLEANSING

- rejuvenate your skin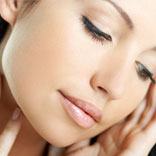 Research carried out for NASA by Dr. Harry Whelan at the Medical College of Wisconsin found that near-infrared light was perfect for increasing energy inside cells. He explains: "this means whether you're on Earth in a hospital, working in a submarine under the sea or on your way to Mars inside a spaceship, the LEDs boost energy to the cells and accelerate healing. [2]"

Furthermore, cells exposed to this near-infrared light grew 150-200 percent faster than cells not stimulated by such light. Other research found that "flashes of infrared light" helped restore the vision of blinded rats and repair up to 95% of their injuries [1].

David Goldberg, M.D. notes that near-infrared combined with red light promotes the formation of collagen, which helps smooth out wrinkled skin. He says: "You're not going to take somebody who is 60 and turn them into a 20-year-old, but it is very clear that you can take people's skin and make them look younger and more vibrant."

Various clinical studies have shown that infrared light can aid in a variety of skin conditions, helping:


Reduce scarring and helping open wounds to heal faster
Acne and eczema
Reduce wrinkles
Give the skin a healthy glow and look
Firm and tone the skin
Reduce cellulite under the skin
Burns
Teenage skin conditions.

[1] http://www.mcw.edu/neurology/facult/HarryWhelan.htm
[2] http://www.msfc.nasa.gov/news/news/releases/2000/00-336.html
Promotive effects of far-infrared ray on full-thickness skin wound healing in rats. Toyokawa H, et al.
View our Solare Saunas
Improve your skins vibrancy