RELAXATION

- De-stress after a hard days work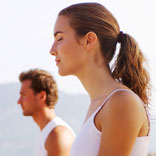 A Di Vapor Solare infrared sauna is fantastic for helping the body and mind to relax. The Solare Carbonwave heaters produce the same soothing warming effect as the sun, which results in the same feeling as standing outside on a warm summers day.

You will enjoy its radiant warmth, but without any of the harmful side effects caused by ultraviolet radiation. The penetrating warmth from a Solare sauna will gently warm your body and help to relax your muscles, entire body and mind.

Doctors say that 75% of illness is a direct result of stress (BMA). Therefore, it's important to find a way to deal with stress and develop effective stress management techniques.

The Solare infrared sauna is also a perfect escape from the hustle and bustle of everyday life. You will be able to escape from distractions, relax the aches and pains in the body, and clear the mind. Some people find it a great opportunity to think and gain focus.

Dr. Hyman says in '7 Keys to Ultra Wellness', "Take a hot bath or a sauna to help your body deeply relax and turn on the relaxation response."
View our Solare Saunas
Your path to relaxation...