A new study completed by Vincent Compan at Manchester University's Faculty of Life Sciences has shown that bathing in saline solutions can ease the agony of arthritis. Simply soaking in a bath filled with your favourite bathing salts can help reduce the inflammation that a growing percentage of the population experience each day through arthritis. "The research has been said to open up exciting new opportunities, with endless potential to help so many patients" said Dr Compan.
The research demonstrated how soaking in a saline solution can cause the cells that cause arthritis to "dehydrate" resulting in a reduction of the swelling that can become painful for sufferers. The salt showed the same results when injected directly into the body or when absorbed through the skin when soaked in a saline bath. The research reflects the common beliefs shared by those that make annual visits to natural hot springs. These springs are extremely high in saline levels, causing them to often be resorted to by patients looking for a "natural miracle cure."
A National Issue
More than 10 million people currently suffer from the pains of arthritis, causing crippling pains and inflammation within joints commonly found in the hands, feet and limbs. Many sufferers are in constant agony to the point where daily life can become stressful. At present there is no cure for arthritis, but there are a number of both commercial and home remedies available for sufferers to help ease the pain and slow the condition down considerably.
Commenting on this research, a spokesperson for the charity Arthritis Research UK said "It's been known for some time that salt solutions can have some benefits towards the aches and pains of arthritis , but it never been known why this was the case. This study has shed some light on this and by identifying the molecular target for these hyper tonic solutions we can hopefully block the molecule that progresses inflammation" – Daily Mail 21/09/2012. 
The Ultimate Home Remedy
In addition to the above, it's common knowledge that breathing salty air can reduce the inflammation and swelling of airways. Salt therapy can also be used to ease asthma, chronic bronchitis, sinusitis, ear infections, hay fever, most respiratory allergies and even cystic fibrosis.
Combining the benefits of salt therapy with the warming comfort of a steam room is something that anybody can install in the comfort of their own home. Di Vapor offer a variety of different sized free-standing steam rooms that can be installed in most environments including bathrooms, en-suites, extensions, garages and even bedrooms.  For more information on sizing and features, visit the following link: http://www.divapor.com/steam-showers.php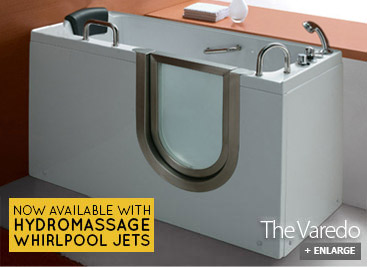 Di Vapor also offers a walk-in bath for those with mobility issues. Our exclusively designed glass hinged door is specially designed to open and close easily, for simple independent bathing. Add a few bath salts for the ultimate soothing relaxation experience. More information can be found here: http://www.divapor.com/varedo-walk-in-bath/walk-in-bath.php