A recognised and established trend expected to continue making an impact throughout bathroom design is the remarkable way in which glass can be used as a raw building material. Architects and designers across the globe are continuing to find unique and attractive ways to incorporate glass into home renovations, paving the way for both practical and unusual solutions for the bathroom.
There are obvious benefits to utilising glass, with the most apparent being the sense of an increase in natural light. The passive characteristics of glass allow daylight to pass through without limit, creating a brighter and more welcoming atmosphere. Furthermore,  using glass helps to create a seamless finish like no other, guaranteed to take centre stage in any  bathroom renovation.
Below are a few of our favourite examples of how glass can create a truly striking finish;
This take on the classic bathroom sink demonstrates how something as simple as flowing water can be transformed into majestic beauty. Complete with an invisible drain, transparent wall fixings and a clever internal glass support structure, the sink seemingly floats in situe.
Modern Glass Cristalli Bathtub by Novellini
For the ultimate in opulence, this futuristic approach to transparent bathing is as striking as it is magnificent. Constructed almost entirely from glass, the  straight edged sides meet the upward curves of each end providing a minimalist, unique modern finish like no other.  The freestanding side mounted taps add a hint of chrome, finishing the bath in true European designer fashion.
Floating Glass Shelving by Adatto 
Storage is an ongoing problem for every household, with the bathroom being no exception. In no time at all, one can expect a wealth of shampoo bottles and body washes cluttering any available surface – Where does it all come from? This unique take on the floating shelf provides an ample wall mounted platform to keep untidiness at bay, with no limit to how many you could have.
Glass Block Dividing Walls – Various Suppliers
Perhaps a blast from the past, the use of glass block tiles became frequent fare in the 1980's with many home design moguls incorporating them into the kitchen and bathroom. The truth is, when used right, a glass block wall is great way of dividing space within a room without losing all important natural daylight. The added element of frosting maintains privacy, whilst being an extremely versatile material to work with.
Frameless Glass Shower Enclosure by Twyford
This list wouldn't be complete without the introduction of a frameless glass shower enclosure – a proven solution to help create a luxury hotel spa escape within the privacy of your own home. Walk in showers usually comprise of a single large glass panel mounted against an adjacent wall, creating a protected open-plan showering space for the user. Combine with a monsoon overhead shower and let the deluge begin!
Freestanding Glass Shower Cabin by Di Vapor
Taking a slightly different approach to the frame-less walk-in shower, the enclosed glass cabin provides a practical glass showering solution as it eliminates the need for a waterproof membrane or any additional tiling. There's a wealth of different sizes and shapes available so decide on your room limitations before you start shopping.  The Venice by Di Vapor provides an ample sealed showering space with dual shower heads, body jets and removeable bench seat.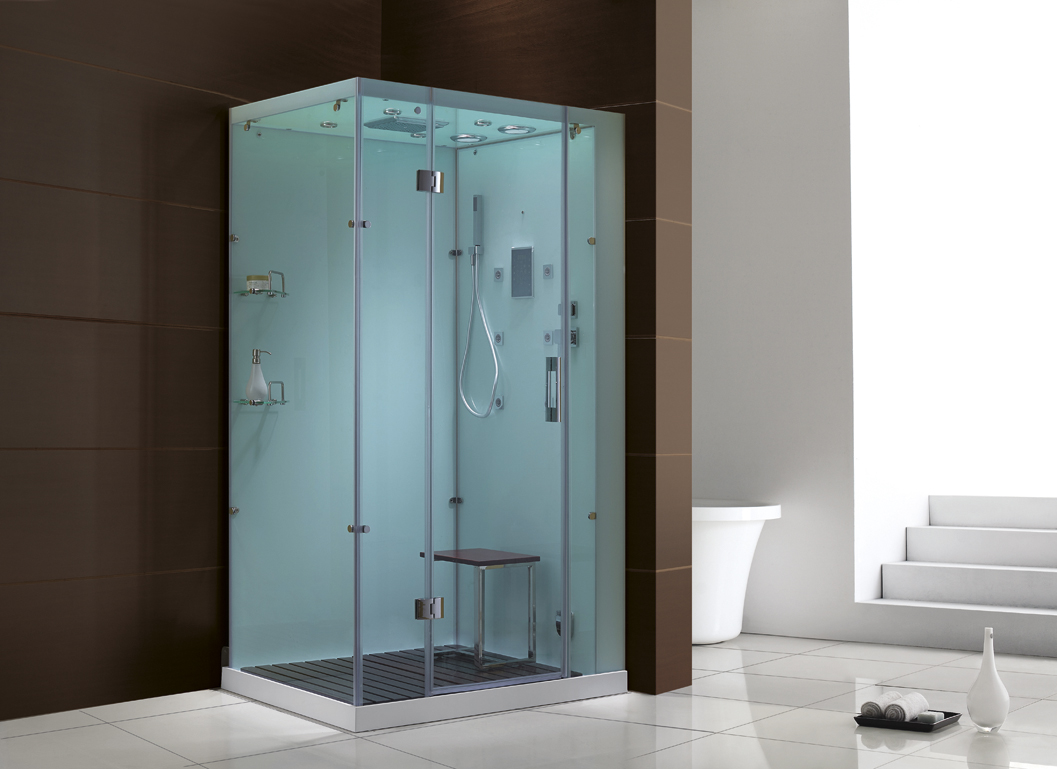 Designer Glass Bathroom Mirror by Affinity
The introduction of a large mirror can drastically transform the look & feel of any room, instantly increasing the levels of natural light within the bathroom. This designer example is not only sizable, the side mounted lighting creates a striking mural on an otherwise ordinary wall.  If you haven't already looked to fit a large mirror in your bathroom, it's one of the easiest and quickest ways to transform your space.
If you've got a unique example of glass being used in the bathroom, be sure to send it through to us via Facebook.