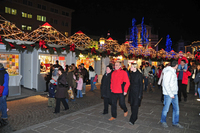 A chocolate sauna?  This doesn't make any sense if you're thinking about a sauna that is made out of chocolate as many people do. When I first heard about chocolate saunas I envisioned a sauna made out of chocolate, full of an intoxicating chocolate aroma, with the inner walls melting slowly, caving in as the heat softened the delicious structure. In a perfect world a chocolate lover would have all saunas made out of chocolate, but you'll just have to settle for second best: Covering your body in chocolate.  That's right, sauna enthusiasts and novices alike have been experiencing the wonderful delight of covering their bodies in chocolate, and entering in and sitting back in a hot traditional sauna. The heat of the sauna starts to melt the chocolate which is coated on the body, which slowly drips off.
Simultaneously, the body sweats as it's heated, allowing the invigorating benefits of the chocolate to penetrate the pores.

The Atlantis water park, which has 16 pools, slides, wave machines, underground caves, whirlpool, geysers, relaxation areas and 15 saunas say that the chocolate contains no sugar, is 70% cocoa and is full of nutrients which will make the body feel wonderful. The experience of a chocolate sauna would certainly be a memory that would stay with you forever, if not for it's invigorating rush, then for its unique novelty.
So where can you find one? Chocolate saunas can be found at the Atlantis, which is in Ljubljana, the capital of Slovenia. The chocolate sauna isn't the only appeal of Ljubljana, which offers an array of wonderful sights and attractions, including a festive Christmas market in December.
If you like mud masks, body scrubs and luxurious spa treatments, maybe you should add this to your 'To try' list. What are you waiting for?